You do not need training to use Payback.
The screens are all laid out in a friendly, familiar way. When processing payments, it is easy to see which employees have been paid and how many employees remain to be processed. If a mistake is made the payment can be easily reversed by a click of a button.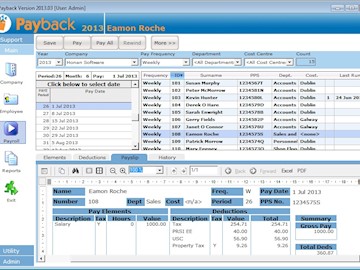 What you see is what you get.
Click the Payslip tab to check the Payslip. The Payslip will automatically update to reflect any changes made.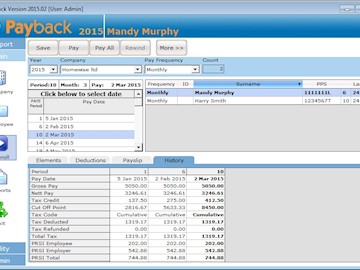 Who's been paid?
The History tab will let you see past payments for the selected employee. Unprocessed employees are displayed in Bold.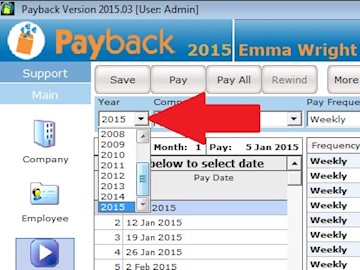 Process past years
Select prior years (from 2004 onwards) from the drop down list in the Payroll screen to process or view past payments. No need to install old back ups or use old versions of the application. All your data is in one place.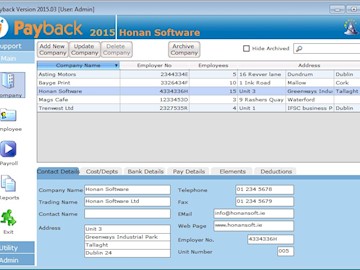 Unlimited Companies
Payback allows you to set up unlimited companies. Unlike other payroll products, there is a dedicated company screen for doing this. It is easy to swap between companies using the company drop down. There is no need to laboriously sign in and out of companies.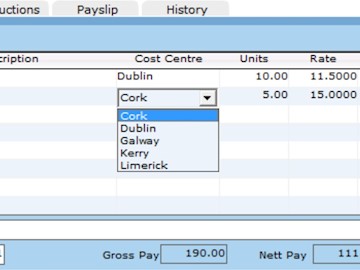 Cost Centres and Departments
Assign cost centres to individual elements. Assign employees to departments. For example, an employee in the accounts department can work 10 hours per week for one particular cost centre, and then a further 5 hours for another cost centre. Set up as many cost centres and departments as you require. Run reports to determine how much money is being allocated to departments and cost centres.
Reports
Payback allows you to produce a wide range of reports such as Gross to Net, Control Summary, Expenses, Report by cost centre and department, and statutory reports such as P30, P45, P35 etc... Don't be left in the dark!